PROJECT: Garden Style Condominium Complex
LOCATION: Bethesda, MD
VITAL STATISTICS: Sixteen Buildings with 4 or 5 stories each with 4 to 6 roof drains per building.
THE PROBLEM: When it rains it FLOODS!
THE SOLUTION: Cured-in-Place-Pipe (CIPP) Lining professionally designed and installed by Dynamic Drain Technologies.
When leaks in storm drain riser piping decide to show themselves the results are typically disastrous. Unlike sanitary sewer risers, there is no way to stop the inflow of water to the piping system when the leaks are active. Torrential downpours of rain can tax even the most expertly engineered roof drainage system. Mid-rise and high-rise apartment and condominium buildings typically have a flat roof system with storm drains positioned in strategic spots to best handle rain events.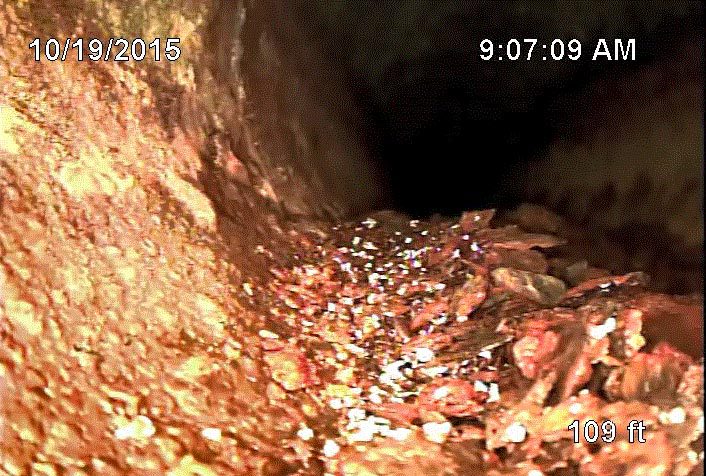 Roof drainage pipes are susceptible to many elements that can instigate failure. First and foremost being that the top of each riser, where the pipe penetrates the roof, is open to receive water flow. Roof drain grates are installed to keep large debris out of the pipe, but smaller debris such as leaves, pebbles, and gravel can slip through roof drain grates. If not properly maintained this debris can collect and cause blockages at different intervals in the pipe. Sections of the piping system where 90-degree or 45-degree bends are present can be especially prone to backups. Not uncommon as well are blockages caused by construction debris. Bricks, tar, sand, shingles, and any other building materials you can think of always seem to find their way into storm drainage piping when projects are being completed on rooftops. These blockages cause pressure to build up in the pipe and eventually the excessive pressure can cause fittings to separate pipe cracks, and deterioration.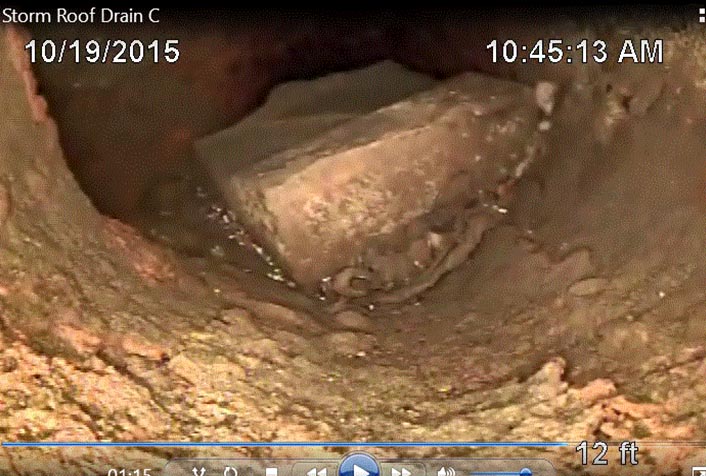 With over 400 condominium units in beautiful Bethesda MD, Sumner Village was no stranger to storm piping issues. Many owners had experienced water damage caused by problems within the aging storm piping system. The subdivision consisted of sixteen buildings, each having four or five stories, and were built in the early 1960's. Each roof held between four and six roof drains. Most of the risers made multiple bends in the top and bottom floor ceilings before exiting into the storm sewer system. It was crucial that the Dynamic Drain Technologies CIPP liner design team choose the proper lining material, calibration tube, and cure time when installing the liner within this multi-bend piping system.
The storm water pipe leaking problems were solved through the successful installation of over 7000' linear feet of CIPP lining in the vertical and horizontal storm drainage piping. Additionally, test tee clean-out fittings were installed on each riser to facilitate future maintenance of the piping system. The project took five months to complete. Pleased with our work, the Board of Directors (BOD) hired Dynamic Drain Technologies to evaluate their entire sanitary sewer system using its Infrastructure Intelligence Program. Over 200 report pages and videos were generated and several more pipelining and cleaning projects were completed. CIPP lining of vertical sanitary sewer risers and under slab piping combined with grease release treatment, water jetting, and mechanical cleaning has made impressive strides toward rehabilitating the properties sewer pipe infrastructure.