Military Base Sewer Repair
For More Information
You can also send us an email and we'll get in touch shortly, or You Can Call Us: 855-937-6945
Military Base Sewer Repair
.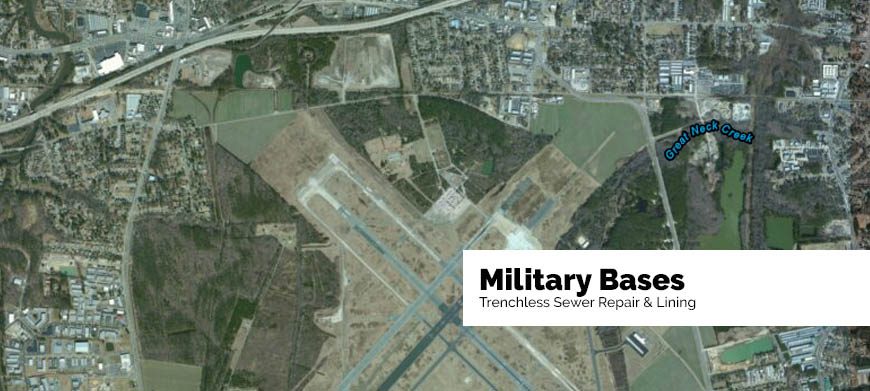 Class A VA Contractor License #2705147099
DMBE VA SWAM # 684641
Cured-in-Place-Pipe (CIPP) lining has become a critical part of sanitary and storm sewer rehabilitation at our nation's military bases. These large facilities can have miles of aging piping infrastructure. Pipes are CCTV inspected, cleaned, and defect graded using Pipeline Assessment Certification Program (PACP) standards. This valuable conditional assessment allows the bases' project managers budget and plan for CIPP lining rehabilitation projects.
Whether the piping is under a building slab, parking lot, or a road the base is responsible for maintaining and making repairs to these systems. Many of these pipes are in critical areas that can't be shut down for long periods of time. Project managers love the fact that CIPP lining is much less invasive and time consuming when compared to traditional messy dig and replace methods.
Dynamic Drain Technologies has performed conditional assessment and CIPP lining projects for many east coast military bases. They always appreciate our knowledge of pipe lining specifications and design calculations. CIPP lining has saved these military base facilities big money while helping preserve our countries history.