Industrial Manufacturing Sewer Repair
For More Information
You can also send us an email and we'll get in touch shortly, or You Can Call Us: 855-937-6945
Industrial Manufacturing Sewer Repair
.
Class A VA Contractor License #2705147099
DMBE VA SWAM # 684641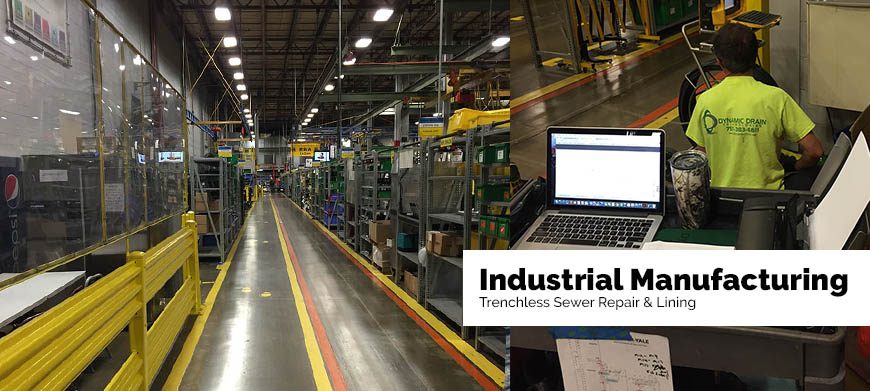 Industrial Manufacturing Plants
CIPP Decreases cost, not production
A manufacturing plant typically runs 24/7. Interrupting production for any period of time can be expensive and usually is not an option. Dynamic Drain Technologies has several trenchless services that allow industrial clients to maintain production with little to no shutdown periods. Cured In Place Pipe (CIPP) lining reduces the footprint of a traditional pipe replacement job and cuts the construction duration in half.
At Dynamic Drain Technologies we have taken project design a step further for our industrial and manufacturing clients. Our design first philosophy allows us to create several action plans that include diversion pumping and 24 hour staffing to reduce or eliminate downtime.
Our equipment and processes have been tailored to meet the needs of an industrial environment. We can adapt all of our equipment to operate inside facilities without any odors or fire hazards. All of our technicians hold the proper OSHA, confined space, and hazardous material training needed to work on industrial sites. All projects are staffed with project mangers who closely monitor job progress and update clients using our custom designed progress tracking software.
Process waste & CIPP liner design calculations
Dynamic Drain Technologies specializes in Cured in Place Pipe lining for process waste and chemical pipelines. During the design or conditional assessment phase, all pipe and effluent details are considered and used for proper CIPP design calculations. Industrial pipe liners can be designed to resist harsh chemicals, high temperatures, and pressure. All CIPP liners are designed and verified by our civil and mechanical engineers before submittals are turned over to our clients. We use independent testing laboratories to test lining samples during projects to guarantee quality and workmanship.